PCI Express Software for Linux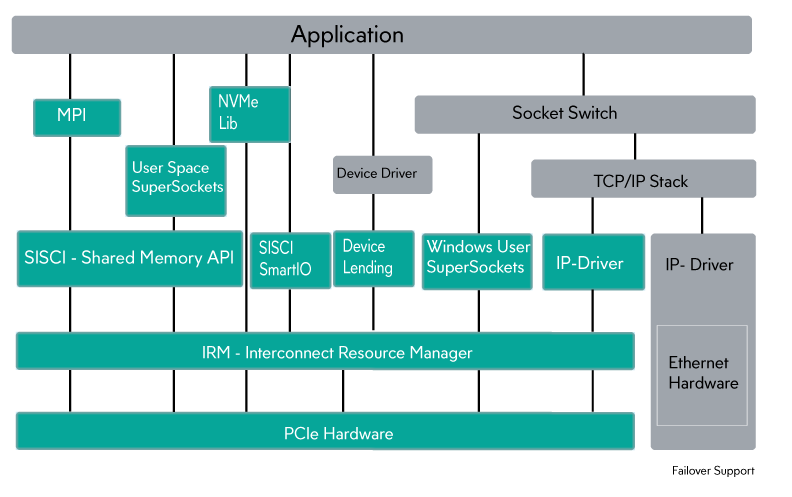 Dolphin eXpressWare Software
eXpressWare for Linux is a complete software suite that includes support for Dolphin's SuperSockets, IPoPCIe, SmartIO and SISCI API software. This comprehensive application development environment includes advanced features such as reflective memory or multi-cast, peer to peer communication and Dolphin smart I/O technology. For customers seeking a software solution for PCI Express Fabrics, this suite is ideal as it can be licensed for custom designs and supports Dolphin's Express hardware products.
SuperSockets - Fast Sockets
IPoPCIe - TCP/IP Driver
SISCI API - Shared Memory API
Reflective Memory
Performance Suite
Example Code
Dolphin Smart I/O software
Peer to Peer Transfers
Supports Dolphin PCI Express Hardware
eXpressWare Fabric Software for Linux
Dolphin's eXpressWare for Linux enables easy and efficient use of PCI Express networking for applications and libraries.
PCIe Networks are designed for performance and reliability. Dolphins eXpressWare for Linux is designed to optimize performance and to provide a turnkey solution for applications communicating over PCI Express. It maximizes the low latency and throughput advantages of PCI Express and enables customers to quickly deploy scalable networks with PCIe cabling or backplanes.
eXpressWare for Linux consist of four major components;
These four components create a comprehensive develop and deployment environment for applications using a PCIe Network. The Linux version is ideal for low latency clustering of systems. It delivers extremely low latency as well as high performance Sockets and TCP/IP throughput between Linux Servers. SuperSockets supports communication to Windows systems running our Linux user space software library. The SISCI API provides a true cross platform communication to other systems running Windows, Linux, VxWorks or RTX.
The Linux version of eXpressWare takes advantage of the advanced features of PCIe such as Peer to Peer communication, reflective memory or multicast capabilities, as well as Dolphin's Smart I/O technology. eXpressWare customers exploit the full capabilities of PCI Express while implementing standards based software.
Availability
eXpressWare supports all popular versions of Linux using Kernel 2.6, and up to the latest kernels and distributions. Please consult the software release note for details.
The software suite supports all NTB enabled standard form factor adapter cards from Dolphin and a variety of PCIe chipsets from major silicon providers such as Microchip, IDT and PLX/Broadcom.
The software is bundled with all NTB enabled cards from Dolphin and can be customized and and licensed to support third party boards and applications.
More details about the complete eXpressWare software stack for PCIe.